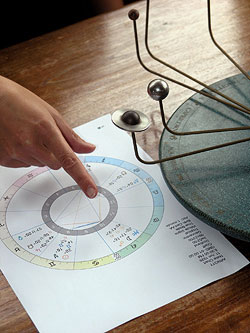 Arrange a personal consultation with one of our experienced professional astrologers, Hamish Saunders or Angela Thomas. Our consultations are conducted either in person at our office or by phone or Skype*.
You will receive a digitally recorded verbal consultation and a written report tailored to your individual needs. The recording of the session is emailed to you along with the written report. When we have received your order we will email you to arrange a date and time for the consultation that works best for our respective time zones. Please allow approximately two weeks for the preparation of your chart and the consultation appointment.
Natal Consultation
An in-depth look at your character and life-trends incorporating modern and medieval methods of delineation. By having your natal chart drawn up you will learn about yourself and your purpose in life. It also includes long-range forecasts and a detailed summary of your coming year, plus information about the best places in the world for you to live in or travel to based on Astro*Carto*Graphy™.
Annual Forecast Consultation
A detailed look at your coming year. It incorporates the modern and medieval predictive techniques of Secondary Progressions, Solar Arc Directions, Firdaria, Profections and Transits.
Relationship Consultation
Explores the areas of compatibility between you and your partner. It will reveal your individual love natures and the dynamics that exist between you, including potential problem areas and opportunities for mutual growth and transformation.
Child Consultation
Gives insights into your child's character and life-trends. By having your child's chart interpreted you will learn all about him or her and his/her purpose in life. The consultation also identifies long-term trends and explores the best places in the world for him/her to live in or travel to based on Astro*Carto*Graphy™.
* If the consultation is by phone or Skype we will call you at the appointed time. Phone charges are paid by us - landline only but not cell phone